Campsites
Enjoy the shade of many different tree species on any of our 100 campsites, all bordered by leafy hedges.
All sites have 6 amp electrical access on European terminals, as well as a private laundry line and nearby water access.
Sites can accommodate up to 6 people, and you'll find plenty of space for your vehicle.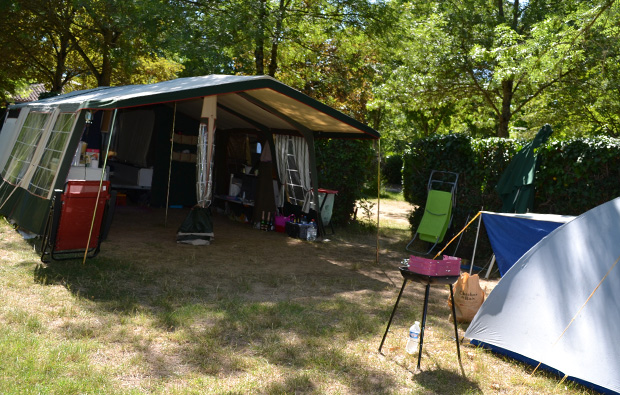 Tariffs (without taxe: 0,55 €/ night)
Per night
basse saison
from 27/03 to 1906
12/09 au 26/10

from 20/06 to 03/07
29/08 au 11/09
high saison
04/07 to 28/08
One person with tent
7.50 €
9 €
11 €
2 people package
13 €
16 €
18 €
1 person package / tent-caravane-camping car (sans élect)
10,80 €
14,80 €
17 €
2 people package / tent-caravane-camping car (sans élect)
14 €
18 €
20,50 €
+ Adult > 18 ans
3,80 €
4,50 €
5,50 €
+ Children from 12 to 18 years old
3,10 €
3,50 €
4 €
+ Children from 3 to 12 years old
1.90 €
2,30 €
2.80 €
+ Children < 3 years old
free
free
free
Power 6A
3.50 €
3.50 €
3.50 €
Animals
2.30 €
2.30 €
2.30 €

Additional trailer

3,50 €
3,50 €
3,50 €
Car park
3.50 €
7 €
10 €
ACSI card
16 €
16 €
non available
Swimming pool
free
free
free
Children club 6-12 ans
non available
non available
free
WIFI
free
free
free
Ready to sleep
13 € *
13 € *
non available
Limited high for caravans or camping-cars : 3,07 m